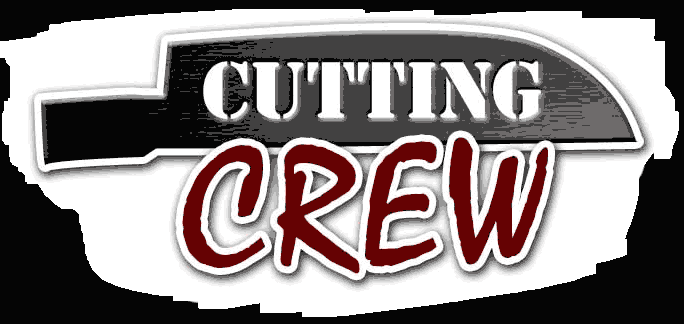 Welcome to the online home of Cutting Crew
We hope you like our fine selection of fine cutting implements.

Cutting Crew Demonstrational Videos
* Acts performed by trained professionals only. Don't try at home. *
THE SKIPPER
THE WAR SAW
URBAN WAR MACHETE
THE BRUNO
TEPOZTOPILLI
WAR VET
WAR AXE

FAQ:
Q: I heard these videos are fake. Is that true?
A: No.

Q: Do knives make good toy gift ideas?
A: Knife weaponry is a very serious subject and should be given the respect it deserves. That being said, the lucky recipient of your gift will no doubt understand the true value of your friendship.
Q: Can I purchase penetration power seperately, so I can have extra penetration power? or do I have to buy the knife with it?
A: You may, but extra shipping charges would apply if you bought it separately.
Q: Stranded on a deserted island and can bring one friend and one knife - what do you do?
A: Combine them both, bring The Skipper. And bring your other best friend, The Wetstone* to keep it sharp as hell. (*sold separately)

2009 CuttingCrew™
Videos produced by Weekend Leisure & Acid Sweat Lodge